My mom always made my costumes when I was little... now my bar is set high. I don't do it every year for sure, but some years I go buck-wild. This was one of those years :)
Oldie wanted to be a tooth fairy. So this DIY, handmade toothfairy dress fit the bill for both of us! Total cost was around $15ish. Much better than the Pottery Barn Kids fairy costume I was inspired by!
I think ours is loverly and cute and sparkly and wonderful! I even honed my face painting skills to paint a fairy face. You can't see from the picture just how much glitter was involved in this. There's glitter all over her face and face paint and then I also bought spray glitter for her hair, dress, and whatever else I felt like spraying!
I happened to find fairy wings at the Dollar Tree a month before Halloween, so that really defrayed the cost for us! I followed
THIS
blog to make the dress. Except I skipped the alligator clips and glued the flowers directly to the ribbons.
And Little was going to be Thumbelina for a month before Halloween, then threw me a curve ball right at the bitter end there and let me know her life would truly be over if she didn't join the Elsa crew at school... sigh.
So it was the 11th hour and I still needed to make games for the preschool party, so it wasn't as amazing as I wished, but I think it still turned out so darn cute! Again, about $13.
I really just took elastic, put it around her chest, sewed pretty blue fabric to it. Then stitched sheer, sparkly fabric to the top and made it a bit longer to make a cape. Sewed a ribbon on to tie around her neck, and tucked the extra sparkly fabric around her shoulders.
She loved the way the dress train flowed behind her like real Elsa, and the way it wasn't scratchy :)
The hair I just braided white yarnand hot glued it in a circle to rest on her head. Next time I will do it thicker like my inspiration hair...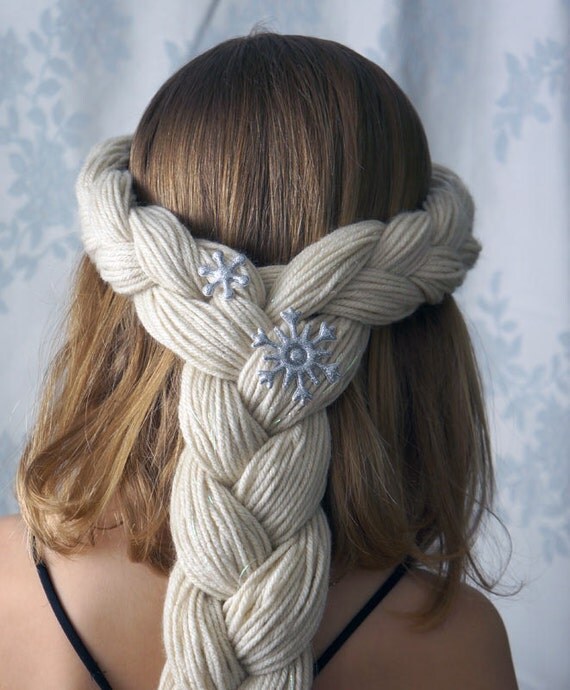 Click on the picture for a link to the Etsy shop that makes these beautiful braided wigs :) Of course my 11th hour Elsa concoction didn't have time for ordering and shipping so I bought a $3 ball of white yarn at Hobby Lobby and went for it.
She loved loved loved it and didn't want to wear the crown because "Elsa doesn't wear a crown when she's the ice queen."
Anyway, it was a super fun Halloween this year. The kids had soooo much fun wandering the streets under the stars trick or treating. Success!!!!