Old Crib turned Holiday Card Holder
I usually tape all the Christmas cards to the back of our door. It's fine, but I was inspired this year!
Remember
the old crib
that I SO wish I could actually use on a baby? Well, since I legally can't, and I don't have a baby anymore (I was googling twin mattresses today, it's time for my now 3 year old to get out of her toddler bed... ok, well past time... wah.) I had the springs sitting by my trash can in the garage waiting for a day where I thought the trash man was in a good mood (and had forgotten about that day we left a bag of very heavy tiling trash on a 100 degree day that may or may not have pretty much melted the bag and when he picked it up it ripped, spreading tile all over the street... I won't tell you that.)
Anyway, I saw this post recently:
and thought OH MY UPCYCLED WONDERFULNESS!!! Not everyone's style for sure, but SO mine. Not only am I keeping this out of the landfill, but I happen to think it's cuteness at it's best!
Holiday Card Holder from Old Crib
I recently started using PicMonkey.com. They have this setting that is called 'darkened edges.' I think I'm in love with it. So be prepared for darkened pics every time :)
I hung up some cards on it from last year and wove some ribbon through the edges. Not sure what else will be added to it, but I know lots of cards!! I think when all is said and done it will hang in our
laundry room/guest bathroom/backpack command station
holding school papers and field trip permission slips. Probably above my Pallet Backpack Holder Shelf thingy.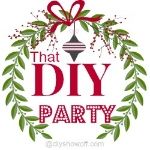 Read more at http://diyshowoff.com/2013/12/08/diy-party-holiday-home-decor/#YkPe3thRe0YX37KQ.99