To chalkpaint or not to chalkpaint... that is the question.
So I bought this antique secretary desk on Craigslist about a month ago...
I really wanted a mommy station. Somewhere near the kitchen to permanently keep my receipts, my laptop, and my necessary mommy organization stuff. Oh, and a cup of tea. Our house is like 1700 square finished feet. It's not tiny, but it's not big, so I like to have all our furniture be functional, help keep us clean and organized, and be cute, too.
There was this space by the stairs I used to have an
old sewing machine table:
Cute and perfectly fit to the little spot. The problem was that it was completely useless. The sewing machine didn't work. You can't fit your legs under the table part to use it for the computer. And that drawer wouldn't even hold anything because it wasn't a drawer, it was a door to open to pop out the non-working sewing machine. Waste of space. My husband liked it, but I've always wanted a hutch there. Much better use of space. Wandering around on Craigslist one day I stumbled across the perfect secretary desk the fit the spot! It's an incredibly narrow spot so pretty much nothing would ever fit there. Until I found...
My beautiful new secretary desk. It fit's the spot like a glove, and has tons of storage, with a fold out desk. My laptop just happens to fit perfectly inside of it even when it's closed.
The real question is.... chalkpaint or no? I saw this secretary desk while craigslist shopping...
It's cuter painted, right? I should do a nice gray blue? I do love the dark wood, too...
I'm leaning towards gray blue distressed with dark oil rubbed bronze hardware... do you agree or disagree?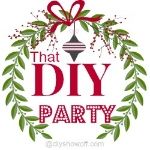 Read more at http://diyshowoff.com/2013/12/01/diy-party-show-diy-home/#ETXuafBc6qqmX6Mz.99